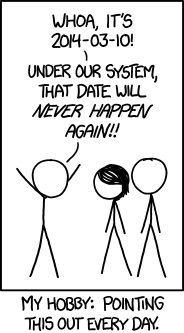 But, yes, the date has changed to yet another date that it will never be again! April the first is a very foolish day, but it is not yet Cheese Weasel Day.
Just now, I'm listening to the recording of the
live broadcast of The Hitchhikers' Guide to the Universe on BBC Radio
, and have just reached the portion that takes place at the Restaurant at the End of the Universe, where Zaphod Beeblebrox has just ordered a Pan-Galactic Gargleblaster. Yeah, that sounds like a really dreary hangover waiting to happen, despite their trying to time-travel out of it!
This post was originally made at http://misschili.dreamwidth.org/133583.html. Feel free to comment here or there, as you will.